You may remember reading about my client Robert in my post entitled "How to Know If You're In the Wrong Job". Robert is the one who has talents and passions in both illustration and foreign languages.
But instead he had a job he dreaded going to every day.
When you first heard about Robert, he was just starting to turn his passion for illustration into a side hustle with the hopes of eventually leaving his job pursuing it full-time.
Over the weekend I received this update from Robert. It truly is inspiring, and can show how applying paNASH's coaching techniques can be life-changing!
---
A Drastic Career Change
Hi Lori,
I hope things have been going well for you. I've finally had some drastic changes in my career take place recently I wanted to update you on.
A couple of years ago I found out there was an instructor at Lipscomb University who used to be one of the top tier animators for Disney feature films for 15 years. He animated moves like The Lion King, Beauty and the Beast, and Aladdin.
Once he left Disney, he moved here to the Nashville area. Then, Lipscomb University recruited him to teach and develop an animation program.
I had heard about him and for a long time I'd always wanted to get in touch with him. He's a real celebrity in the animation world and has numerous connections in the industry.
I thought it would be so cool to connect with a guy like him and to learn from him. It had been bugging me for two years that a resource like him lived just 20 miles away and I'd done nothing to try to make that connection.
So, in March, I finally got up the nerve to reach out to him.
I sent him an email explaining my passion for character design and told him how I'm trying to transition into the industry. I asked him if he was open for a discussion and he agreed to meet with me.
It turns out he's a very kind, generous person willing to help aspiring artists as best he can.
I asked him if it would be possible to audit just one of his classes at Lipscomb. He said yes and after coordinating it with Lipscomb's admission's office, I registered for his character design class that would begin in August.
The Inevitable Obstacle
I was so excited!
However, there was one huge problem.
The class was held mid-day on Mondays, Wednesdays, and Fridays. This of course conflicted with my work hours at my job in Hendersonville.
I would have to be away from the office a few hours three days a week, just to take a class that has nothing to do with my job. I knew my company would never approve such a request for that much time away from the office.
So, my wife and I started praying about what to do.
Having a mentor is absolutely essential for an artist to fully reach his potential. I'd already been praying for two years for such a mentor who could help me grow as an artist.
It looked like God was providing an answer and an opportunity for me to learn from the best of the best, but there was the obstacle of my job. Lots of prayer and discernment ensued.
A Fork in the Road
By July God was still putting it on my heart to not let this opportunity slip by.
At this point I decided to sit down with my boss and explain my situation to see if there was anything that could be worked out with my company.
My boss is a very understanding guy and he knows art is my passion, so I knew he would get how big of an opportunity this was for me.
I asked him about the possibility of working remotely on the days I had class. I'd read the book The 4-Hour Workweek you suggested to me when I was asking you about how to pitch working remotely to my company, so I was using what I learned because it was my only chance of keeping my job and taking the class.
When I pitched my idea to my boss, he was supportive, but HR was not.
This didn't surprise me.
It seemed clear at this point I wouldn't be able to keep my job and take the class. I was at a fork in the road. I was going to have to choose between my job and my dream.
And I was going to have to make a decision soon because the class was starting in a few weeks.
A Paycheck Isn't Worth the Unhappiness
My wife and I continued to pray and we talked about it until we were blue in the face.
Through all this prayer and discernment, I realized the only thing keeping me at my job was money. Everything else about my job was not worth staying on for.
I realized it was a dead-end job because if I stayed, I'd be stuck doing the exact same thing ten years from now.
Literally I was showing up every day just for a paycheck.
The most interesting thing I realized though was the paycheck wasn't as important as I originally thought.
Yes, everyone needs money. But being constantly unhappy was not worth the money.
My wife and I discussed our finances and figured out with her income and our combined savings, we'd be fine for at least a year. She gave me her blessing and support.
She's the most loving and supportive woman I could've possibly found in this world. She told me if God was calling me to pursue my talent in art and we had enough money to make due, to go ahead and leave my job for my passion.
So I gave my boss two weeks notice.
My last day of work was August 17th and my first day of class was August 20th.
It's a Faith Journey
Now, I'm free of my soul-sucking job and I'm finally getting to do what I've been dreaming of for years! (In fact, I'm writing this email from a computer on Lipscomb's campus!)
My plan is to spend the semester taking the class and practice my skills to get them to a professional level while also building my relationship with the instructor.
Then, when the semester ends in December, I'll assess my next steps.
The instructor is known for helping connect his students with other people in the industry. I'm hoping he'll do the same for me even though I'm only auditing his class.
Since starting the class a few weeks ago, I've been making the experience my new full-time job.
I arrive on campus every morning at 7:00am, whether I have class that day or not, and I stay until 4:00pm. I spend my time honing my craft, taking the class, networking with other artists, and building a professional relationship with my instructor.
It's been great but it's also been a challenge spiritually and emotionally.
The devil is trying to break me down every day by telling me I'm wasting my time, I'm a selfish, irresponsible husband and it's ridiculous for me to chase my passion while my wife works.
I expected this to happen because I knew the devil would do this.
And most days it's hard not to let it get to me. But that's what comes with the territory of a faith journey.
And this is definitely a faith journey.
No Longer a Slave to a Paycheck
Now that I've settled into my new schedule, I'm going to start advertising around campus my Spanish tutoring skills. I think it would be a confidence boost to earn at least a little money while also helping others.
I find I work best when I move between two different things rather than focusing on just one thing.
This will allow me to make my own schedule and charge what I'm worth instead of working part-time waiting tables.
I'm also going to start using the Passion Planner you gave me at paNASH's client mixer to better structure my day and maximize my time.
For so long my job was holding me back and I was just a slave to a paycheck.
Now I'm finally doing what I'm supposed to do. I'm not doing it full-time YET, but I am still receiving commissions for my artwork as a side hustle which is helping fund my dream while I learn from the best.
Thank You!
I write all this to say your help is partly what enabled me to arrive at this major career decision to pursue my passion.
The skills you've taught me, the encouragement you've given me, and the resources you've connected me with have all played a huge role in getting me to this point.
And you don't know this, but your blog posts have really been an inspiration to me as well.
Specifically, the one entitled "When Is the Right Time to Leave Your Job?" was published the exact same day I had to make my final decision about quitting my job, and it helped me know for sure I was doing the right thing.
And the one you wrote the following week about the ropes course also reassured me I'd done the right thing.
Those two posts were divinely orchestrated at just the right time for me.
I really wanted to thank you for the help you've given me and especially for being available on occasion even after our coaching sessions were over.
I wanted to share all this with you so you could see the fruit of your diligent work with me.
Thank you!
Robert
Robert's Art
Reading Robert's email made my whole week!
He's such a talented and gifted artist, and I believe in him so much last fall I commissioned him to do a drawing of me as my childhood hero, Wonder Woman. (I'd always wanted to be Wonder Woman when I grew up!).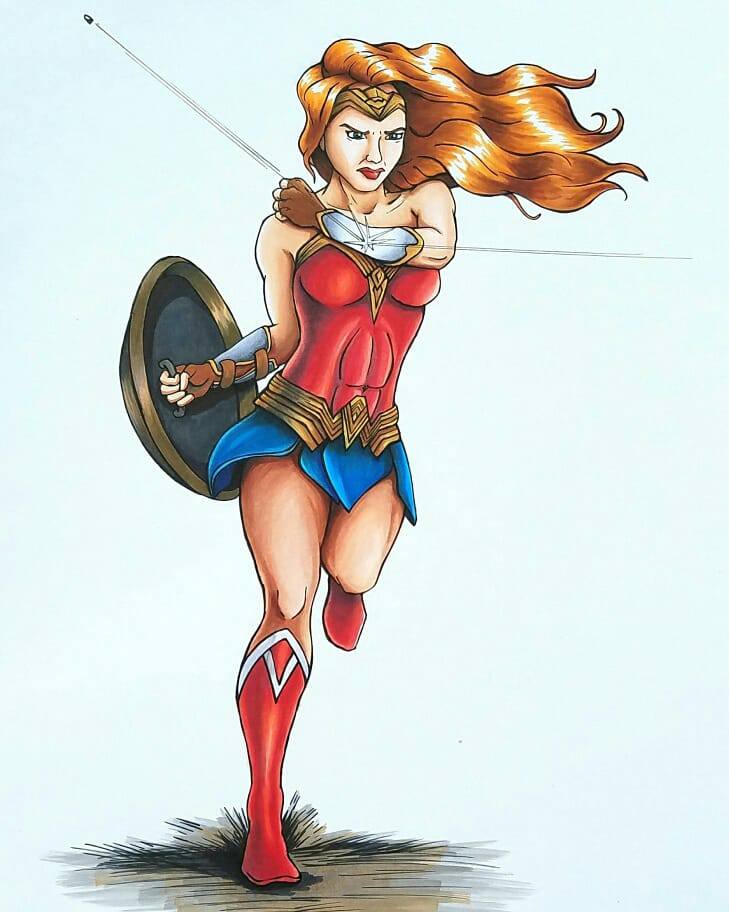 Related Posts: