As I've previously mentioned, I recently had eye surgery. When I first was told I'd need the surgery, I assumed that, even though it was "surgery-surgery" as opposed to a simple laser procedure, it wouldn't be a big deal. After all, it was out-patient surgery.
Boy was I wrong! Because of how quickly I had to have the surgery, I had no time to do any real research on what I'd be going through. That's probably a good thing because if I'd known what I know now, I probably would've chickened out, and therefore ended up losing my sight in my right eye.
I've been so confused as to why my healing period is taking so long. But the more medical staff I speak to, all of them tell me the same thing:  "you just went through a big surgery." Not only have I gone through a "big surgery," I've also experienced some minor complications from the surgery, making healing time longer and more challenging.
The most challenging part of recovery (aside from the pain and not being able to drive) has been my sensitivity to sunlight. I love being outside when it's sunny and the weather's nice. I don't like the dark. This is why I always choose doing something outside over going to a movie during the day.
But, I've had to spend weeks on end sitting inside with the blinds closed. This has brought me down mentally and emotionally, especially on the days when we've had 80 temps in February! But just the other day, I received something that lifted my spirits.
paNASH Named in Top 10 of 2017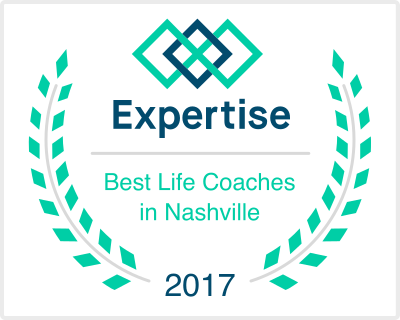 My coaching business, paNASH, received recognition as one of the top 10 coaching services in Nashville for 2017. This is based on Expertise's analysis across 25 different criteria, including:
Reputation

Credibility

Experience

Availability

Professionalism
I'm very honored by this distinction, and it's made me use this time to reflect on what makes my coaching business paNASH unique from other great coaching services.
What Makes paNASH unique:
paNASH provides a "hybrid" approach.
While I'm a certified coach, my background is in career advising. Therefore, I strike a balance between challenge and support. Traditional career coaching focuses only on asking you questions. My hybrid approach provides both challenging questioning to help you arrive at the answers that are within you, along with realistic career advice based on my knowledge and extensive past work experience.
paNASH provides unique and cutting-edge career advice.
Much of the job search advice found on the Internet is the same advice from nearly 20 years ago. I know because it's the advice I was giving to my clients all the way back in 1999. I love staying abreast of the latest career strategies. In addition to the tried and true advice, I strive to provide unique and cutting-edge advice others aren't currently providing. This makes you stand out (in a good way!) from other candidates who are only applying outdated job search strategies.
paNASH encourages you to think outside the box.
I love helping you unleash your creativity when it comes to your career and your life. I'll help you see other options you've never previously considered that are different from a traditional path. This can lead to both personal and professional freedom, which you've probably been seeking for some time now.
paNASH understands the importance of personal reflection and experience.
I could give you numerous career assessments, and sometimes do without overwhelming you. But you'll never know if something is a fit for you until you've spent time in self-reflection to figure out your "why" and in trying new things. paNASH provides you the permission and the space to explore your passions and to figure out your purpose. Assessments are great at telling you what you're good at, but they can't tell you what you really want. Only you can answer that question when given a safe place (away from societal and/or family pressures) to ponder and consider what feeds your soul.
paNASH likes to get moving!
Because of my own passion for the outdoors, I've been known to hold coaching sessions outside and even on the water. It's not unusual when the weather is nice for me to take you out for a walk or hike, or even a paddle on my spare standup paddle board. The results have been so beneficial because clients have commented on just how rejuvenating the experience is. It's helped them gain clarity on their current situation, adopt a fresh perspective, and even confirm for them what their next steps should be. Plus, they got a little exercise, and most of all, had fun!

So, if you're ready to get started with paNASH, take the first step by completing the paNASH intake form. Now that I'm finally on the mend and spring is nearing, I'm anxious to get moving again and to help you get motivated!
Related Posts:
Save
Save
Save
Save
Save