When helping my clients, one thing I like to do is encourage them to brainstorm ways they can combine their passions. An example of this is someone who has a love for sports and for photography parlaying that into a part-time or full-time job as a sports photographer. Or, someone who is studying music but also loves children and helping people could focus their career plans toward music therapy at a children's hospital.
Taking your hobbies and passions a step further
I recently saw this quote on Pinterest and totally agree…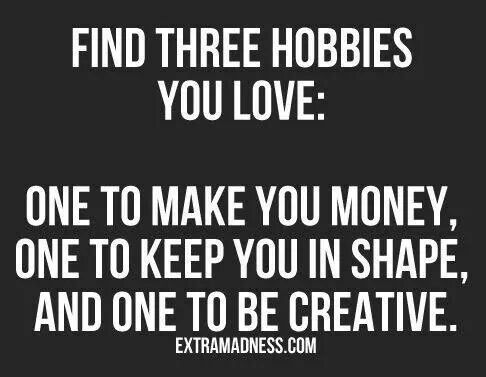 …but I also like to ask, "How can you take this a step further and find some overlap between the three?" What if you found one passion or hobby that made you money AND kept you in shape? Or one that let you earn money while exploring your creative hobby?
My own example
I've worked hard to try to do the same for myself. It's taken a while to make each of my passions (spirituality, coaching, writing, and stand up paddle boarding) fit in a way that makes sense, but it finally came together this past year. About two years ago I discovered a passion for stand up paddle boarding which is a fun way for me to keep in shape in one of my favorite places:  on the water! While doing this, I started seeing a parallel between the lessons I gained from stand up paddling and the lessons in Scripture. I decided to use my creative juices for writing to start recording those parallels in the form of a devotional blog called SUP:  Spiritual Understanding & Prayer (on a SUP board).
But I still had a desire to figure out a way to incorporate stand up paddling in my work as a career and life coach. This took the longest to come together, but when I changed my business over from an image consulting company to a career and life coaching service, it suddenly became very clear how I could accomplish this. I could actually conduct a coaching session with clients on the water (using my spare board), and could translate the SUP beginner lessons with the things they are dealing with in life and work. For instance, how to achieve not just physical balance (obviously necessary for SUP), but also work-life balance.
Results
I have already taken a few clients out this summer and so far I've received great feedback from them. One said that because she did crew in college, going out to the river felt familiar to her which eased her nervousness about trying SUP. She said in turn, that has helped ease her nervousness before job interviews because of the techniques I've taught her for job interviewing makes each interview feel familiar and less nerve-wracking than before.
Another client has said that just being on the water left her feeling rejuvenated both physically and mentally, and ready to take on life's next challenge. For me, it's awesome that I get to use my passion for stand up paddle boarding and my skill for teaching a new hobby to make money while helping others, introducing them to something new, and getting a little exercise in all at the same time!
How can you combine your passions?
Whatever your hobbies are, I encourage you to start thinking about how you can combine your passions for maximum benefits, whether that means earning a profit, getting more exercise built into your routine, getting your creative juices flowing, or all three! One way to start getting ideas is by completing the 8-Step Goal-Achievement Plan which you will begin receiving for free when you subscribe to the paNASH newsletter.
Related Posts:
 One Save
Save
Save
Save
Save
Save
Save
Save