Along with honoring those who died for our freedom, this past weekend marked the unofficial beginning of summer. Summer is a time to enjoy many freedoms. This includes the freedom to some much-needed time off from work.
I enjoyed my time off this past week with family and friends, and then some time on the water with my latest stand up paddle board. There's nothing that re-charges me more than the rhythmic sound of my paddle in the water while surrounded by nature. Not only is this a great workout, it's also very relaxing. For those few hours on the water, any and all stress melts away.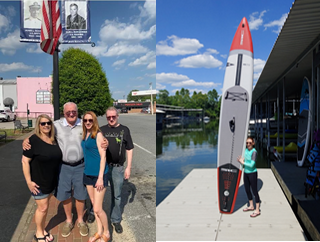 The freedom to discover your next career move
This is why there have been times I've taken clients out for a paddle boarding lesson. When they're so stressed out by their current work situation or job search and it's all they can think about, paddle boarding is a great way to take a break and shift focus.
Having both the physical and mental break helps my clients gain a better perspective, and gives better clarity to their career goals. This is especially true if they've been overthinking their career.
If you're looking for a career coaching experience that provides a fun and much-needed break for better clarity on your next career move, and the freedom to explore what that might look like, you've found it here with paNASH.
Yes, we cover all the serious stuff required for a successful career and job search, but there's also room here for something both fun and healthy to spark new ideas for your career. Besides, if you can't have a healthy work-life balance in your career coaching experience, how can you expect to have it in your career?
Find out more
Summer is a great time to work with paNASH and discover your next career move! For more information, click here to schedule a complimentary initial consultation. In the meantime, click here to check out some of paNASH's free career resources.
Related posts