I'm back from my mission trip to the Amazon jungle! What an amazing experience it was. I can't wait to share all about it in my next blog post, something I'm working on right now. In the meantime, enjoy this re-post of a previous blog on how passion projects can have a greater purpose. It's written to encourage you to begin working on your own passion project. The one that keeps coming up in your mind. The one you've either been procrastinating on or praying over (or both!). Enjoy, and see you next week!
It's Time to Launch Your Passion Project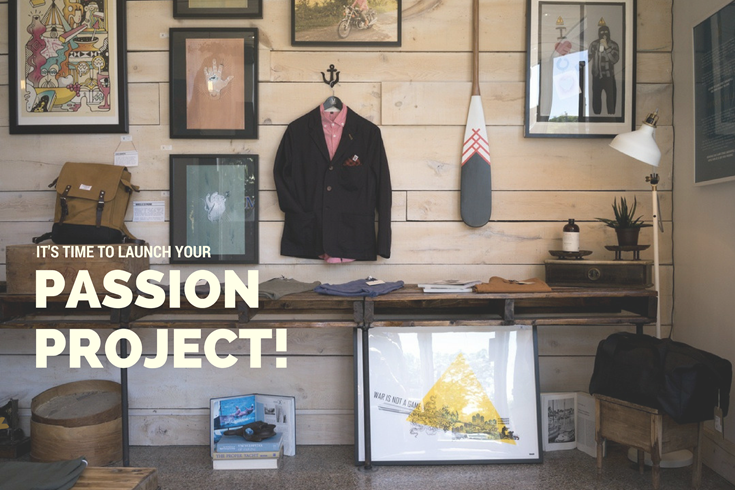 At the start of 2017, I challenged my readers to begin a passion project. I encouraged them to take the ideas they've had burning inside them for some time now, and start implementing them. The new year was a good time to add their passion project to their goals for 2017. I planned to join them with my own passion project, a 30-day devotional that combines three of my passions:  faith, writing, and stand up paddling.
How My Passion Project Began
My own passion project began much like the way the passion project process is described in Niklas Goeke's article "How to Start a Passion Project One Day At a Time." It started out simply as something I thought would be fun. I'd been enjoying a newly-discovered passion, stand up paddling, and was noticing several parallels between paddling and Biblical principles.
I thought it would be fun to record some of those spiritual epiphanies in writing, specifically on a personal blog. I set up the blog, named it "Spiritual Understanding & Prayer (SUP) on a SUP," and began writing. However, I didn't really promote the blog since I was just doing it for myself. Only a few friends knew about it and followed it.
A Greater Purpose
Fast forward two years. My publisher asked me for a 2nd book, but I wasn't sure what I wanted to write about. Originally I was thinking perhaps a follow-up to my first book Advance Your
Image.
But God had a greater purpose in mind. Instead, I started thinking about a compilation of my personal blog posts on spirituality and stand up paddling. My publisher liked the idea and suggested putting it in the format of a daily devotional.
By the end of 2016 I was weeding through all my posts of my paddling adventures to choose just the right ones for my next book. I started reformatting and editing them around the same time I'd challenged my readers to pursue their own passion projects.
That's when it dawned on me I could use my passion project for a bigger purpose. I could use the profits from book sales to help fund my very first mission trip I'm taking in July. This idea was a perfect fit since my paddling excursions mainly occur on rivers and my mission trip will take place along Brazil's Amazon River.
Obstacles are Inevitable
Of course, when working on such a project, there are times when obstacles will occur. It's just inevitable. For me, it was an unexpected surgery in late January and an extended recovery due to complications from the surgery. I couldn't work on my passion project (or any projects for that matter) for over a month.
Luckily I'd submitted most of my manuscript prior to my surgery. But this set-back was still going to cause a delay in the release of the book. I did my best to not let this get me down. I picked up where I left off on my project as soon as I was able.
There's also another hiccup in this story. Originally, my mission trip was to occur in early March. But since there weren't enough participants from my church, I got moved to a trip with participants from another church who are going in July. I found this out several months before I knew I'd have to have surgery.
If the March timetable had worked out for my church, I wouldn't have been able to go because I was still recovering from my surgery at that time. I'd already raised about half of the funds for the trip, so I would've been really disappointed.
God's Timing Is Perfect
Despite having to have a 2nd surgery in late April, I'm now doing much better physically. In fact I'm back on the water just in time for the beginning of paddle season.
Most importantly though, my book is now available! God's timing is always perfect! I'm so excited about how He plans to use the book for His Glory and the impact it will have. Not only on its readers, but also on those benefiting from the profits – the people in the tiny communities and congregations situated along the banks of the Amazon River.
Spiritual Understanding & Prayer on a Stand Up Paddleboard is a reminder to not just listen to God when you're reading your Bible and praying, but also when you're working and playing. This is true no matter what your own hobbies are, what kind of work you do, or what your personal passion projects are.
I'm so honored and grateful that champion SUP racer and pro surfer Candice Appleby penned the foreword to the book. She is a sister in Christ who openly shares her faith in the professional SUP community. She continually points her achievements in SUP and surfing back to God, always giving Him the glory.
How You Can Make an Impact
There are several ways you can also make an impact. First, by starting your own passion project and seeing where it leads. Follow Goeke's suggestions in the article linked above and you'll have the confidence to bring it to fruition and accomplish what God wants to do through you.
Second, you can contribute to my passion project by purchasing a copy of Spiritual Understanding & Prayer (SUP) on a Stand Up Paddleboard for only $12. One hundred percent of the profits go toward travel expenses and supplies for the mission trip to the Amazon. Go to http://bit.ly/SUPdevotional to purchase a copy.
Thank you in advance for your support of this passion project. Your purchase creates a ripple effect in God's Kingdom like a single drop of water does in the vast Amazon River!
Save