This week I talked with Katie Gonzalez of linenlaid&felt on how she turned her passion into a business. I first met Katie when I signed up for one of her classes on how to make your own books and journals through her bookbinding techniques. What Katie does is amazing! She creates beautiful hand-bound books out of leather and various types of paper and fabrics. They are gorgeous works of art that are also functional as journals, photo albums, sketch books, and more. She not only sells her creations, but also teaches others how to make their own.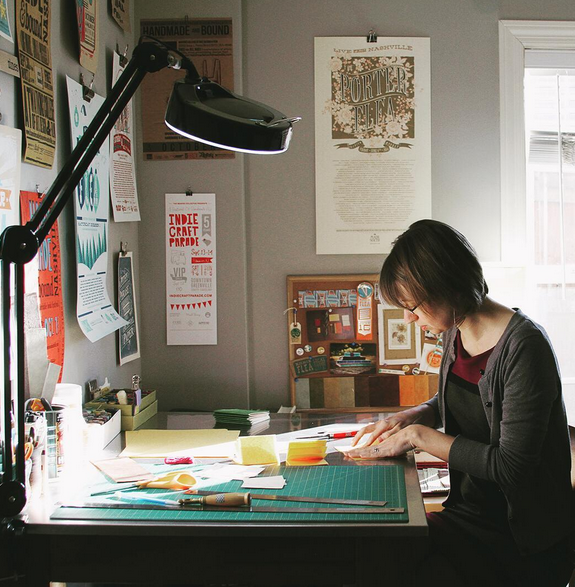 In this interview, Katie discusses how she discovered such a unique art during her travels to Italy, and how she's turned this art into a passion and a successful business. In doing so, she shares the process she went through, including leaving her full-time job as a graphic designer where she wasn't very happy working for someone else, to become a full-time creative and creator.
"Life is too short not to do something you're passionate about!"
You'll also get to meet Katie's dog Porter. He decided to crash our interview in the hopes of getting some attention! I almost edited that part out, but it was too funny to leave on the cutting room floor! Katie also discusses how those who don't consider themselves to be creative or artistic can discover an art form that uses a different skillset and can also be functional.

Some questions I ask:
How did you discover the art of bookbinding and why did it become such a passion for you?

What made you decide to leave your job as a graphic designer to pursue bookbinding as a career?

What fears did you have and how did you overcome them?

What is your philosophy on discovering new passions?

What do you think your classes teach in addition the art and skill of bookbinding?

What advice do you have for someone contemplating a career change or starting a business related to their passions?

In this interview you will learn:
How a form of art can also be functional. (1:12)

Ways to incorporate your passion into your current work. (1:45)

How to make the transition from turning your passion into a business. (3:00)

What kind of fears come with starting your own business. (5:25)

How Katie's dog Porter, a beautiful bullmastiff, stole the scene! (My apologies for camera shake but he insisted in making me point the camera in his direction!) (5:54)

How Katie's past experience prepared her for starting her own business. (6:14)

Porter's close-up with the camera! (6:44)

How Katie's books can be used in various ways. (7:57)

How to discover new passions through learning. (9:37)

About Katie's classes she offers to others wanting to learn how to make their own books. (10:55)

How Katie has developed new passions she'd never previously considered. (13:08)

Advice Katie has for others wanting to turn their passion into a business. (14:24)

How to learn more about the art of bookbinding. (17:59)

What Katie's books look like as a finished product. (18:53)

How to

buy Katie's creations

(if you don't want to make your own books). (19:54)
How to

sign up for Katie's classes

(if you DO want to learn this beautiful and functional art form). (20:45)
To receive notifications about upcoming interviews, follow me on Periscope (@paNASHcoaching) and subscribe to my newsletter!
Related Posts:
Save
Save
Save
Save
Save
Save
Save
Save
Save
Save
Save
Save
Save
Save
Save
Save
Save
Save
Save
Save
Save
Save
Save
Save