This time last year, I found my very first vision board I'd ever done. I made it in 2011 after noticing a colleague's vision board hanging in her office. She told me ever since she'd started doing vision boards, she was able to see so many of the items on her board come to fruition. It intrigued me so I decided to give it a try myself.
When I found my first board while de-cluttering my house, I was pleasantly surprised. I was able to see how every item on my board, except for one, has since come to fruition. They didn't all happen in just one year however. They happened over the course of the past decade.
What I find interesting about my first vision board is I designed it in the form of a mind map, and at the center is the word "God." All the items branching out from the center were things I realize I never could've accomplished without God's help.
You may not share the same faith or beliefs as me, but I think it's important to have something solid, a strong foundation, to anchor your goals. But even just writing down your goals and vision for the future makes you 50% more likely to accomplish them. This is a true statistic. I even notice this in my weekly and daily calendar. If I write down what I want to accomplish for the week, it gets done. If I don't, it doesn't. It's as simple as that.
My past decade
Since making my first vision board, I've created a vision board every year. However, I haven't always followed the same mind map format. Some years I've done a collage with photos cut out from magazines, other year's I've created a private Pinterest board. I've also used a tri-fold board with Post-It Notes, but I seem to always gravitate back to the mind map. So you can imagine how excited I was to see Canva.com now has over 35 mind map templates to choose from! (See example below.)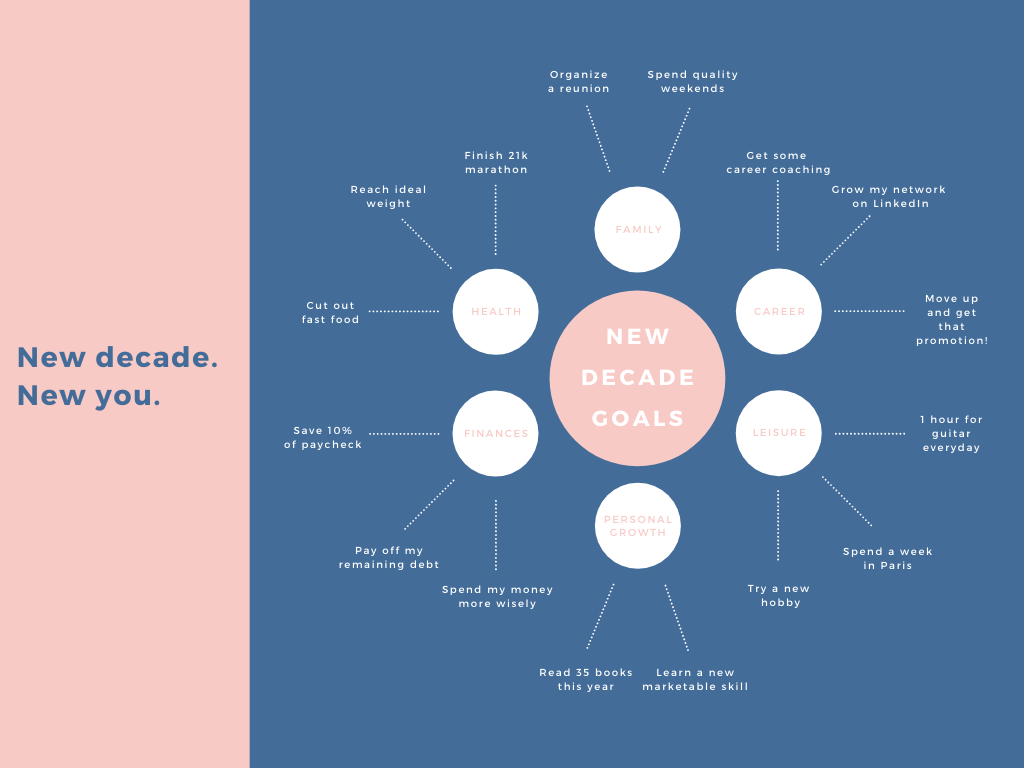 The past decade I've been fortunate to have experienced and accomplished a lot of cool things. I've published several books, changed the focus and mission of my business for the better, traveled to the jungles of the Amazon to advance the Gospel, served as a career consultant in various capacities, took up stand-up paddling and added two boards to my fleet.
I've also experienced the challenges that come with life. I made the difficult but healthy decision to end a relationship, almost lost my eyesight in my right eye and endured a very painful surgery for it, and cared for a family member who had to learn how to walk again after an accident which could've left him a quadriplegic.
Looking back over the past decade, the good definitely outweighed the bad. And even the bad had enough good sprinkled in to make it possible to persevere and achieve my goals.
Your past decade
What has your past decade looked like? Are you happy with what you accomplished this past decade? Do you still have some things to accomplish?
If you've accomplished what you hoped to, good for you! Take some time to celebrate it. Then start planning for the next decade.
If however, you're the type of person who tends to procrastinate, you'll want to stay tuned for next week's blog post entitled "How to Make This the Last Year You Say Next Year."
Your next decade
But this doesn't give you another week to procrastinate! In the meantime, you can learn how to create your own vision board for a whole new decade with my free download, The 8-Step Goal-Achievement Plan.
This plan is designed to get you out of a rut and help you not just set goals, but also stick to them and achieve them! I promise if you follow this plan, you'll start to see things happen in your life. Things you always hoped to do or planned to do but never quite got around to it.
You'll now have both a plan and also the confidence to get started on your goals for the next decade! For your free copy of the 8-Step Goal-Achievement Plan, go to howtoachievemygoals.com. Stay tuned for next week's post!

Related posts: