What is the SWEET SPOT of your purpose? In last week's blog we talked about the 11 benefits of pursuing your passions, including one particular benefit:  fulfillment of your vocational purpose(s). Like I stated last week, it is so very rewarding and fulfilling when you are doing the things you are called to do, particularly in your work. This fulfillment occurs when you are using your unique skillset to do what you love and what benefits others, which in turn yields a return.
Visualizing The SWEET SPOT
To help you see this visually, I'm using a figure I recently saw posted on Instagram. It's a figure you may also have seen before. I don't know who came up with this diagram, but wish I did so I could give him or her credit! It is a simple explanation of the meaning of purpose: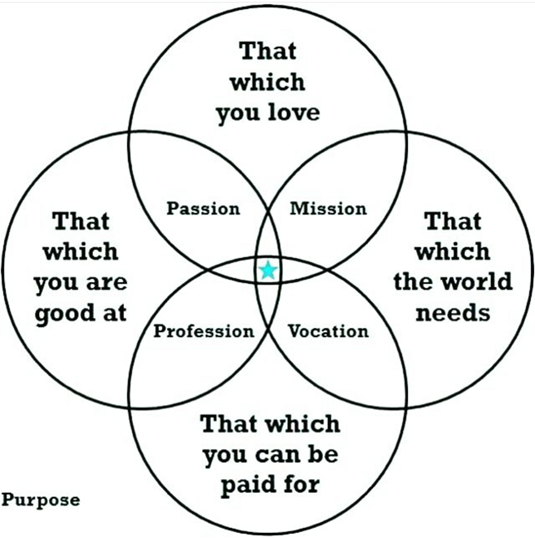 That blue star you see right there in the middle? That's what I call the SWEET SPOT! Now, your star may fall on another spot elsewhere on this diagram, and that's okay. But if you're goal is for your star to fall into the SWEET SPOT, then it's time to start working toward that goal.
How to arrive at your SWEET SPOT
What does this entail? First and foremost, a lot of self-reflection and self-assessment. Then, figuring out what others need to help them solve a common problem and how willing they are to invest in that solution. After that, it's a game of connect-the-dots.
There are numerous resources out there to help you connect those dots. Several of which I will be sharing in this blog, to my newsletter subscribers, and to my clients. Next week, I'll be showing you the zone you need to be in to get to your sweet spot, called the "LEARNING ZONE." Stay tuned!
In the meantime, join our newsletter and receive a complimentary 8-Step Goal Achievement Plan.
Related Posts:
Save