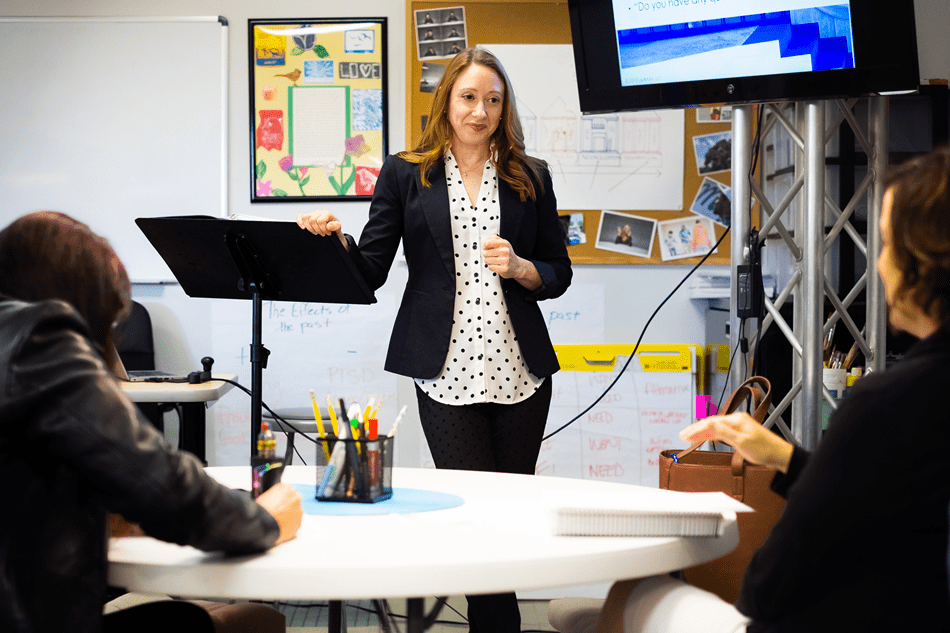 Career expert Lori Bumgarner is a career coach and author who, upon request, provides informative and interactive presentations designed to teach audience members how to understand their value and purpose to your organization.
Lori has been a frequent guest speaker at various corporations, universities, and professional organizations. She's been published in Inc., The Huffington Post, and The Daily Positive and has been quoted in The Wall Street Journal's online blog. Lori is the author of three books, including an Amazon #1 bestseller, and has been named one of  Nashville's top ten coaches for the past five consecutive years.
Lori's Presentation Style
Because Lori is first and foremost a career coach, she's a much better listener than speaker. And while she doesn't claim to be the best speaker, she does speak about good things, like the good ways to cultivate a career that best serves the larger community.
Lori's no-frills approach provides participants tangible take-aways that can be applied to each audience member's career stage and role. She has been praised for providing interactive exercises and unique "nuts-and-bolts" how-to instruction on being competitive in today's world of work.  
Lori's programs are geared to those needing and wanting to grow in their careers. Whether you're a corporation wanting to retain your most talented employees and enhance their value, or you're a professional organization looking to help your members discover the next step in their careers, there's a program available for your needs! Topics include (but not limited to):
5 Ways to Pursue Your Passions in Life and Work
Don't Just Set Goals, ACHIEVE Them!
12 Ways to Start Living Out Your Purpose NOW!
The Secret to Successful Networking: How to Do It Naturally and Effectively
Personal Branding: How to Know What Makes You YOUnique and AWEthentic! (includes copies of Lori's latest book)
In Lori's programs, your audience members will learn:
How to get unstuck and get out of their rut.
Ways to overcome their obstacles and re-frame their negative beliefs.
How to incorporate their passions into their work with successful networking skills.
Ways to set goals they can commit to.
How to overcome the obstacles standing in the way of their goals.
The importance and purpose of personal branding in their careers.
How their passions and abilities fit into their work roles.
How valuable their unique skillsets are and where they fit in the world around them.
How to effectively and clearly communicate their value to your customers and constituents.

As a result, your audience members will:
Develop a more positive mindset.
Reduce their negative self-talk.
Be more focused on how to better spend their time.
Obliterate the obstacles previously standing in the way of their goals.
Create their own vision and mission statements to serve as their compass.
Gain a better understanding of how they add value to their market.
Make stronger connections with their teammates, customers, and colleagues.
Increase their confidence.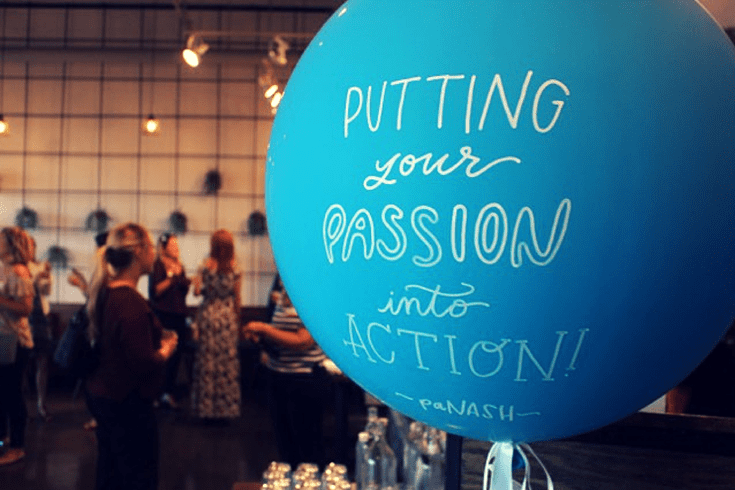 Lori's past speaking engagements include Brookdale Senior Living corporate offices, Belmont University, University of South Carolina at Spartanburg Dept. of Athletics, Nashville Junior Chamber, XMi Human Resources Solutions, Vanderbilt University Dept. of Athletics, Nashville Songwriters Association International, and the Mike Curb College of Music Business and Entertainment (Belmont University). Here's what people had to say about her programs:
"Passionate. Thought-provoking. Stimulating. Career enhancing. Lori's approach to guiding your career was a session we will never forget. Working with a team of nearly 45 professionals, there was a wide range of marketing talent from designers, editors, copywriters to digital strategists, email marketing managers and business to business marketers. Our team needed focus and for the employees to understand their roles and meaning in the organization.
Lori led a session of thoughtful leadership starting with a provoking question, "What makes you unique?" We went on to define a series of individual attributes that made up our personal and professional brand.
What was important about this, was that it enhanced the sense of value for my team. We went on to discover the topic of what's important to others around you, including your manager.
I have struggled with some of my team members thinking that what they do creates value, but it doesn't always translate to what the priorities of the company or manager are. By learning to identify what's important to others, it promotes growth and a more unified corporate agenda.
It all concluded with an individual mission statement, which was a wonderful reveal to the team about why they come to work, and what drives them. It allowed me as a leader to understand their motivations and work to fulfill them. I would highly recommend this session to other corporate leaders."
Shelly Riera, VP of Marketing, Brookdale Senior Living
"Lori's presentation on the topic of branding was one of the best ones I've heard. Her focus on this popular topic was so different from other branding presentations. It was very engaging and she did a great job walking the audience through each step on identifying, packaging and presenting your brand. Lori gave real-life examples from clients she has coached through the branding process, which resonated with the audience. Attendees left with key takeaways and next steps they could implement in the days to follow."
Patricia Jacobs, Former Director, Office of Career & Professional Development, Belmont University
 "Lori's program gave me the nuts and bolts of how to figure out what sets me apart from my competition so that my sales pitch is authentic and engaging. Prior to her presentation, I was lost on how to explain my business to others. Now I have the tools to do so with clarity, authenticity, and confidence."